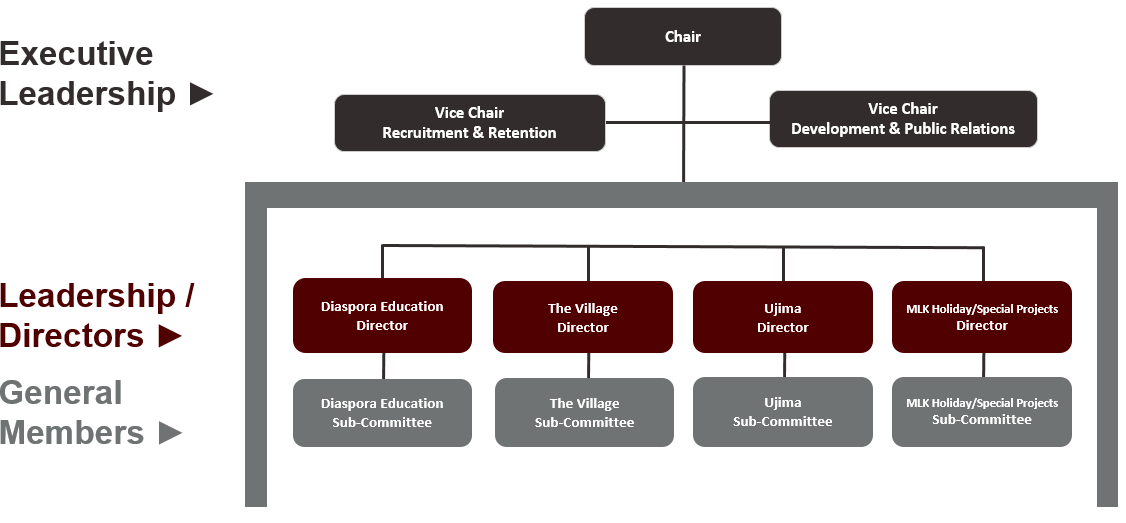 Executive Leadership Positions
Chair      
Required MSC Officer Role & Responsibilities
Represent the MSC: Student Programs Office: As a student leader in the MSC Student Programs Office, you are a reflection of the department and our MSC Values.
Attend Weekly Monday Night Meetings: When creating your academic schedule, please be mindful of your requirement to attend Committee Advancement Team meetings every Monday night at 6pm.
Assist with MSC Committee Alignment to Memorial Student Center: Committee Chairs have the responsibility of directing their committee's goals and year to meet the needs of the department.
Complete the full Academic Year: MSC Officer positions are meant to be performed for the full academic year from Fall to Spring.
Attend Leadership Launch: Every spring, the MSC hosts Leadership Launch in order to assist with the transition of new leaders.
Represent your committee at Unity Breakfast: Unity Breakfast is a way to bring all outgoing and incoming officers to gain an understanding and awareness of diversity in leadership.
Understand the Student-Staff Partnership: The MSC Student Programs Office operates under a unique 1:1 relationship between student and advisor
Essential Functions & Duties
Provides professional development to leadership team through: 1) trainings on SLLOs at leadership meetings, 2) plans/facilitates workdays, and 3) attends Fall Leadership Conference with one Vice Chair.
Runs effective and efficient leadership meetings during academic year (weekly) and summer (bi-weekly).
Provides consistent feedback through performance evaluations of directors.
Supervises Vice Chair of Recruitment & Retention who is responsible for: 1) selection process for all leadership and general members, 3) reTREAT, reFRESH, reTRAIN, 4) GCM meetings and 5) socials, end of the year banquet.
Supervises Vice Chair of Development & Public Relations who is responsible for: 1) Development / Fundraising Plan, Fiscal Year Budget Coordination, 3) Graphic Design/Marketing, and 4) The Woodson Weekly.
Supervises all directors to ensure that their respective projects are successful.
Submits room and university support requests for meetings and events as needed.
Completes interdepartmental paperwork and archival record keeping.
Implements best practices to ensure the success of the 2020-2023 MSC WBAC Strategic Plan.
Vice Chair - Recruitment & Retention 
1. Manage all Recruitment efforts for general members, leadership and executive leadership. Duties include, but not limited to:
• Create timeline for the recruitment and selection process
• Facilitate informationals
• Oversee timely approval and assignments for general members
• Oversee timely implementation of interviews for leadership and executive leadership positions
2. Plan onboarding events:
• Ensure participation in MSC Unity Event, MSC Leadership Launch and MSC Leader Refresher
• Leadership/Members – Facilitate reTREAT (fall), reFRESH (spring), reTRAIN (as needed)
3.  Manage all Retention efforts; duties include, but not limited to:
• Plan/Facilitate socials
• Plan/Facilitate end of the year banquet
• Plan/Facilitate General Committee Member (GCM) Meetings; which include, but not limited to: Welcome/New Business-VCRR, SLLO or MSC Training-Chair, Financial/Development Update-VCDPR, Presentation - Diaspora Education or Diversity Training Tier 1-3; Announcements-VCRR
4. Collaborate with MSC Human Resources and Marketing Resource Teams on recruitment strategies and materials
5. Implement best practices in fiscal responsibility, risk management, project management, delegation and critical thinking into all aspect of planning and facilitation of projects
Vice Chair - Development and Public Relations  
1. Oversee fiscal year budget coordination and matters, including, but not limited to:
• Monitor spending and update weekly on financial status at leadership meeting
• Create/Present fiscal year budget in spring semester
• Train leadership and GCM on best practices in fiscal responsibility and all financial matters (e.g., Pro Card, tax exemption, budget accounts, etc.)
• Attend Business Program Assembly (Mondays, 6:00PM) that focus on development, grants,  fundraising and/or fiscal year budget with Chair; as applicable.
2. Act as lead fundraiser with duties including, but not limited to:
• Write grants for various programs
• Create/Implement a development plan and work with MSC Development Resource Team
• Maintain all electronic records/databases
3. Implement all public relations and marketing endeavors including, but not limited to:
• Graphic Design/Posters
• Social Media
• The Woodson Weekly
4. Act as the gatekeeper for the strategic plan, ensuring that the team meets success indicators.
5. Implement best practices in fiscal responsibility, risk management, project management, delegation and critical thinking into all aspect of planning and facilitation of project(s)
Expectations of MSC WBAC Leaders
Understands/Implements MSC policies and procedures
Accomplishes assigned tasks
Prepares and is punctual for all meetings and events
Asks questions / Provides feedback
Articulates information accurately
Respects others
Engages general committee members throughout academic year
Informs Chair and/or Advisor of additional priorities that may interfere MSC WBAC commitments in a timely manner
Receives/Provides constructive criticism
Contributes to growth of fellow leaders and their programs
Contributes to the overall growth and wellbeing of the committee