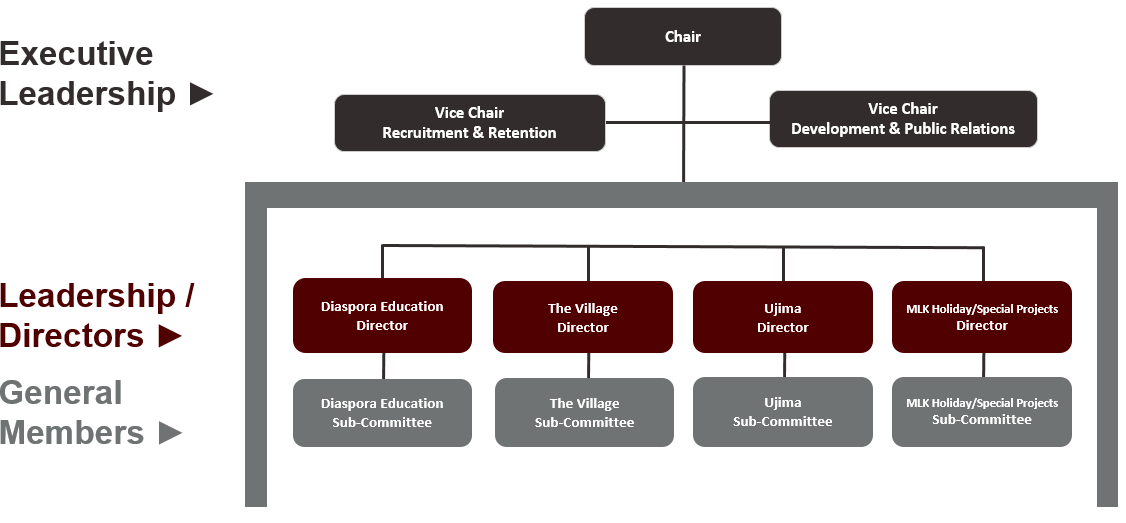 Executive Leadership Positions
Chair
Required MSC Officer Role & Responsibilities
Represent the MSC – Student Programs Office: As a student leader in the MSC Student Programs Office, you are a reflection of the department and our MSC Values.
Assist with MSC Committee Alignment to Memorial Student Center: Committee Chairs have the responsibility of directing their committee's goals and year to meet the needs of the department.
Complete the full Academic Year: MSC Officer Positions are meant to be performed for the full academic year from Fall to Spring.
Attend Leadership Launch: Every spring, the MSC hosts Leadership Launch in order to assist with the transition of new leaders.
Represent your committee at Unity Dinner: Unity Dinner is a way to bring all outgoing and incoming officers to gain an
understanding and awareness of diversity in leadership.
Understand the Student-Staff Partnership: The MSC Student Programs Office operates under a unique 1:1 relationship between student and advisor.
Essential Functions & Duties
Provide professional development to leadership team on DSA Student Leader Learning Outcomes (SLLO).
Run effective and efficient leadership meetings.
Review/Send The Woodson Weekly.
Provide consistent feedback through performance evaluations of all members of leadership team.
Supervise all vice chairs and directors to ensure that their respective responsibilities are successful.
Submit room and university support requests for meetings and events as needed.
Complete interdepartmental paperwork and archival record keeping.
Implement best practices to ensure the success of the strategic plan.
Vice Chair - Recruitment & Retention
1. Manage the Selection Process for GCM, leadership and executive leadership. Duties include but not limited to:
• Create timeline for the selection process
• Facilitate informational meetings
• Oversee timely implementation of the selection process
2. Plan onboarding events:
• Executive Leadership – Ensure participation in MSC Diversity's Unity Dinner, MSC Leadership Launch, MSC Leader Refresher
• Leadership – Facilitate Leadership Training Day (fall and spring)
• Members – Facilitate reTREAT (fall) and reFRESH (spring)
3. Produce effective General Committee Meetings; which include, but not limited to:
• Welcome/New Business-VCRR
• SLLO or MSC Training-C
• Financial/Development Update-VCD/PR
• Presentation-Diasporic Education or Diversity Training Tier 1-3
• Announcements-VCRR
4. Facilitate all socials and end of year banquet
5. Collaborate with MSC Human Resources and Marketing Resource Teams on recruitment strategies and materials
6. Implement interpersonal communication, fiscal responsibility, risk management, project management, delegation and critical thinking into all aspect of planning and facilitation of project(s)
Vice Chair - Development and Public Relations 
1. Oversee fiscal year budget coordination and matters, including, but not limited to:
• Monitor spending and update weekly on financial status at leadership meeting
• Create/Present fiscal year budget in spring semester
• Train leadership and GCM on best practices in fiscal responsibility and all financial matters (e.g., Pro Card, tax exemption, budget accounts, etc.)
• Attend Business CAT Meetings (Mondays, 6:00PM) that focus on development, grants, and fundraising with Chair; if applicable.
2. Act as lead fundraiser with duties including, but not limited to:
• Write grants for various programs
• Create/Implement a development plan and work with MSC Development Resource Team
• Maintain all electronic records/databases
3. Implement all public relations and marketing endeavors including, but not limited to:
• Graphic Design/Posters
• Social Media
• Website
4. Act as the gatekeeper for the strategic plan, ensuring that the team meets success indicators.
5. Implement interpersonal communication, fiscal responsibility, risk management, project management, delegation and critical thinking into all aspect of planning and facilitation of project(s)