Dr. Carter G. Woodson
Born December 19, 1875, Carter Godwin Woodson was born on a small farm in New Canton, Virginia. Born into a proud, but poor family headed by former slaves, he aimed at the stars of scholarship in a world made remote by prejudice, segregation, and arrogant institutions, resolves to be a teacher, a scholar, a molder of thought and public sentiment.
He supported himself by working in the coal mines of Kentucky and was thus unable to enroll in high school until he was 20. From there he went to Berea College in Kentucky and on to obtain a B.A. from the University of Chicago in 1907. In 1908 he attended Sorbonne University in Paris where he became fluent in French. He received a Ph.D. in History from Harvard University in 1912, becoming only the second African-American to earn such a degree. Woodson taught briefly at Howard University as Dean of the School of Liberal Arts and West Virginia State College as Dean of the College and held educational, administrative posts in the Philippines.
Dr. Woodson was a member of the Niagara Movement and a regular columnist for Marcus Garvey's weekly publication–the Negro World. In 1915 he founded the Association for the Study of Negro Life and History to encourage scholars to engage in the intensive study of the past as it related to Africans and their descendants through the world.(2) Woodson was the founder of Associated Publishers, the Journal of Negro History, founder and editor of the Negro History Bulletin, He wrote more than a hundred articles and 125 book reviews, and was the author of more than thirty books. Probably Woodson's best known book is The Mis-Education of the Negro, originally published in 1933. In The Mis-Education of the Negro, Dr. Woodson stated that, "When you control a man's thinking you do not have to worry about his actions. You do not have to tell him to stand here or go yonder.  He will find his 'proper place' and will stay in it. You do not need to send him to to the back door.  He will go without being told. In fact, if there is no back door, he will cut one for his special benefit. His education makes it necessary."
Dr. Carter G. Woodson was an American historian who first opened the long-neglected field of black studies to scholars and also popularized the field in the schools and colleges of blacks. Prior to this work, the field had been largely neglected or distorted in the hands of historians who accepted the traditionally biased picture of blacks in American and world affairs. To focus attention on black contributions to civilization, he initiated the annual February observance of Negro History Week in 1926. This celebration and remembrance would later evolve into Black History Month by the 1970s.
Some other important works by Woodson include the widely consulted college text, The Negro in Our History (1922; 10th ed., 1962); The Mis-Education of the Negro Prior to 1861 (1915); and A Century of Negro Migration (1918).  He was at work on a projected six-volume Encyclopedia Africana at the time of his death. Woodson was a scholar and teacher who believed in the power of education.  He died on April 3, 1950 in Washington D.C.
National Historic Site District of Columbia – Carter G. Woodson Home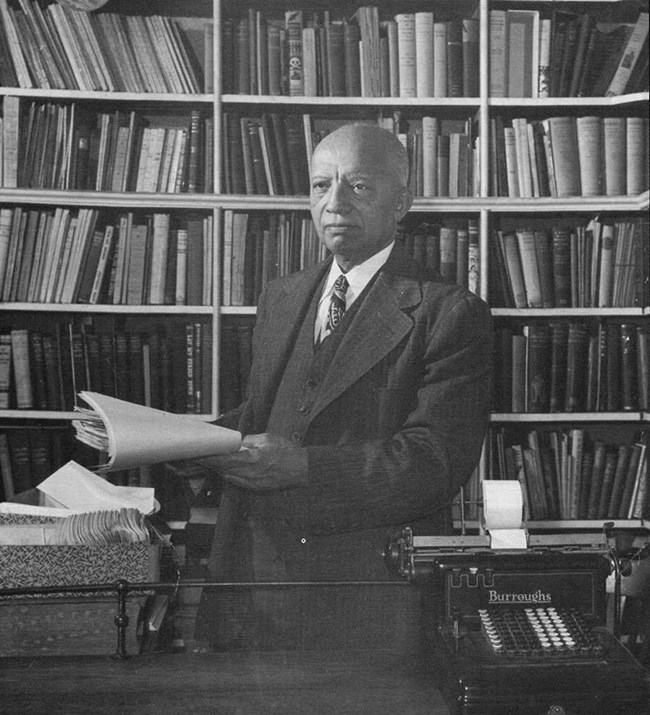 The Father of Black History Month
(Credit NMAH, Smithsonian Institution)